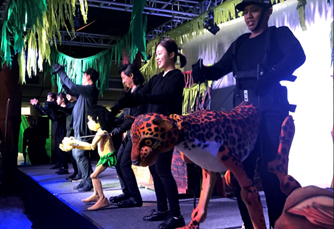 The Jungle Adventure
Venture into the lush jungles of Southeast Asia in this enthralling musical puppet show and delve into a hypnotic world of wonder and excitement. With its action-packed plot, captivating characters, and spirited music, "The Jungle Adventure: A Romp on the Wild Side!" is set to be an exhilarating and dynamic theatre experience for all.
Frolic in the jungle with Mowgli, the intrepid jungle boy, as he learns the importance of sharing the Earth with the other creatures that inhabit it. Adapted from "The Jungle Book" stories by English author, Rudyard Kipling, this contemporary adaptation tells a bold tale of the young orphan through lively music and vibrant puppetry. Join Mowgli on his escapades with his adoptive mother, Reiki the Indochinese leopard, and his friend and mentor, Pang Goh Lin the pangolin, as they go up against a vengeful tiger, a scheming snake, and a forest fire that threatens their very survival! Embark on the journey of a lifetime and let the rhythm of the jungle whisk you away through interactive play and fabulous jungle fun!
Learning the Values of Bravery, Familial Love, Teamwork and Forgiveness.
Throughout "The Jungle Adventure", the protagonists display their bravery and self-sacrificial natures by remaining strong in the face of adversity. Motivated by their love for each other, they draw courage and strength from their sense of community and familial duty. Learning to work together to achieve a common goal is also central to the characters in the musical, and wholly applicable to our daily lives. The musical also imparts the value of forgiveness, and its necessity to living harmoniously, be it with those around us, or with nature.
Wildlife Conservation
Inspired by Jane Goodall's visit to Singapore (2018), Minister for Social and Family Development Desmond Lee stated the importance of learning to share our island with the wildlife by being mindful of their existence. As Mowgli learns to love and protect nature, so too will the audience adopt a mindful attitude towards the environment and the wildlife that live around them.
To draw attention to the plight of animals in the wild, most of the central characters in the musical are endangered species. The survival of the Indochinese leopard, the pangolin, the Malayan tiger and the orangutan are under threat due to overwhelming habitat loss and poaching – a pressing situation, requiring the cooperation of man. Mowgli's position highlights how, although most of us are not directly at fault for this, we have nevertheless benefited from this plundering, ultimately emphasizing man's responsibility to nature.