ArtBeatz has been established to explore the unique way and meaningful engagement of the community with the arts. 
ArtBeatz explores ground-breaking innovation that shapes the way people experience their community, culture, and arts. We are committed to staying relevant over time by keeping in touch with the current heart beats and pulse of the future generations.
ArtBeatz also continues to research and experiment new teaching pedagogies and brew new creative ideas in community arts projects. Through these meaningful projects, we aim to cultivate an appreciation of arts and invite interactions from people from all walks of life, across all ages with various abilities.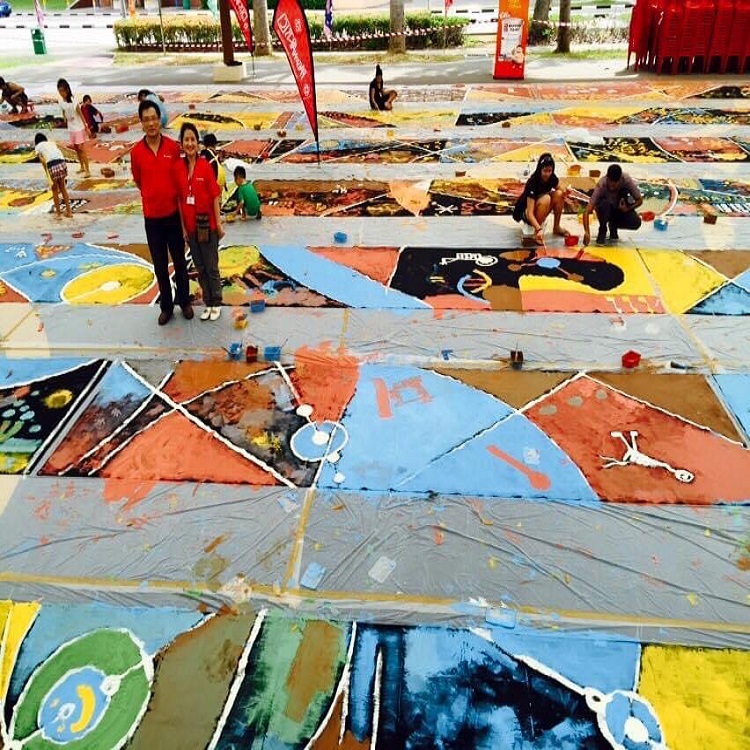 Background Information
ArtBeatz was born as the artistic wing of IQKidz Enrichment Education with the aim to reach out to the community at large with collaborative art projects, workshops, educational tours and theatre productions.
Its first collaboration was a meeting of minds and hearts in Prague 2012, where Singaporean artists congregated in Prague for an arts exchange programme, including ArtBeatz Artistic Director, Ms. Dawn Tam, and Master Artist, Sun Yu-li. They developed the idea of presenting Mr Sun's Universal Language of arts to kids through painting.
As a true commitment to "walk the talk", "Love. Revolve the world" was born in 2013 and was part of The Children's Season, a 30 metres x 2 metres exhibition at the Singapore Art Museum. It was the talk of town! 750 children were involved in co-creation with Artist Sun Yu-li.
In 2017, ArtBeatz produced Pinocchio: A Whale of Tales! In collaboration with local talents from puppets designers, storyboarding, as well as lyrical and music production. The musical was staged within a 20-metre whale made up of 30,000 plastic bottles, earning ArtBeatz a place in the Singapore Book of Records as the biggest theatre prop created in Singapore.
ArtBeatz was bestowed with the Singapore Prestige Brand Award 2017 and moved on to create more collaborative arts with Fine Artists and community, from PAssionArts Projects, to shopping malls opening showcase. The sky was the limit!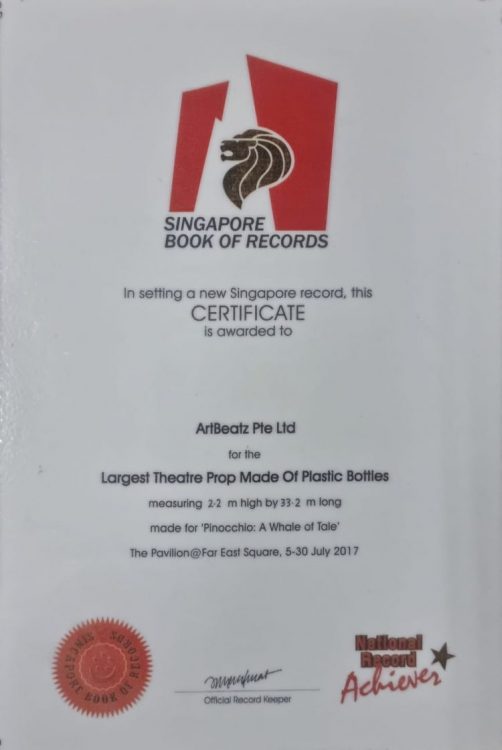 Our Vision
ArtBeatz thrives to unite people through arts and embrace diversity with people across all ages from all walks of lives with various abilities.
Our Mission
ArtBeatz deploys arts for self-discovery, brings about Social Awareness to embrace diversity in strengthening community coherence, and enliven aesthetic endeavours to enrich lives.